LEBANON ELK'S LODGE #422 Lebanon,Ohio~founded 1898
The Benevolent and Protective Order of Elks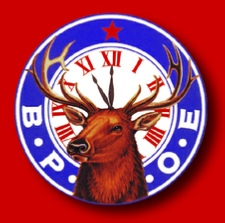 WELCOME TO THE HOME OF LEBANON LODGE #422
Thursday, August 28, 2014
What's New? Recent Updates
PARTICIPATE IN "YOUR" LODGE
LODGE PROJECT DAY
Saturday, September 13th 8 AM
We are beginning our lodge remodeling
Projects. All members are encouraged
To participate!
LEBANON, OHIO
ELKS LODGE #422
Our lodge is a proud, long standing, active member of our local community - located in historic downtown Lebanon, Ohio.
FIRST FLOOR
CLUB ROOM
Our main floor member's club room has a full service lounge & card room with many amenities. See our Lodge page for more information.
SECOND FLOOR
BANQUET HALL
Our lodge boasts a large second
floor facility for your private parties and occasions. It features a full service bar for your event.
SECOND FLOOR
BANQUET HALL
A full service bar, plenty of seating a commercial kitchen, dance floor make our hall perfect for your event. Rental is open to the public - see our rental page for more information.
ELKS CARE - ELKS SHARE
THE ELKS
Elk lodges proudly serve their local communities and honor our nation's veterans.
PARTICIPATE IN "YOUR" LODGE
LODGE MEETINGS
Lodge Meeting Hours:
1st & 3rd Thursdays, 7 PM
Except July & Aug, 3rd Thursday only
This site is dedicated to promoting & sharing information about the Elk's organization and our lodge with current and future members.
Elks Lodges bring so much more to their communities than just a building. They are places where neighbors come together,
families share meals, and children grow up.
The Elks invest in their communities through many programs , by undertaking projects that address unmet needs, and by honoring the service and sacrifice of our veterans.
Click on the facebook icon
To check out our lodge's page
Andrew Tompkins
Eric DeMichele
Andy Davis
Lodge Project Day Scheduled
Earlier this year it was determined that the second floor men's restroom was in serious need of remodeling. To get more accomplished and help keep the costs low we are asking that our members assist with the effort. We realize that not everyone is a skilled craftsmen but we have many tasks that only require manpower and effort. The more members that help the more we can achieve in making the lodge better for all. So were hoping that our members will answer the call and roll up their sleeves for a day of work and camaraderie!
More information to follow…