LEBANON ELK'S LODGE #422 Lebanon,Ohio~founded 1898
The Benevolent and Protective Order of Elks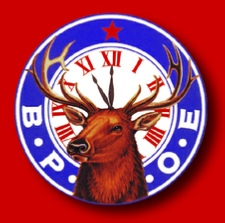 WELCOME TO THE HOME OF LEBANON LODGE #422
Monday, November 24, 2014
What's New? Recent Updates
Monday, November 24th 6:30 PM
Board Meeting
Saturday, November 29th 5 PM
Lebanon Pub Crawl
Wednesday, December 3rd 7 PM
Auxiliary Meeting
Thursday, December 4th 7 PM
Lodge Meeting
Saturday, December 6th
12 - 7 PM
Holiday Festival Spaghetti Dinner
NOVEMBER EVENT
CITY WIDE PUB CRAWL
Saturday, November 29th 5:00 PM
"A Toast to Dicken's Pub Crawl" starts at the Golden Lamb gazebo at 5 PM
Click on the link below for more information
DECEMBER EVENT
HOLIDAY FESTIVAL
SPAGHETTI DINNER
Saturday, December 6th 12 - 7 PM
The Annual Holiday Spaghetti Dinner Hosted by the Lodge Auxiliary on the second floor.
LEBANON, OHIO
ELKS LODGE #422
Our lodge is a proud, long standing, active member of our local community - located in historic downtown Lebanon, Ohio.
FIRST FLOOR
CLUB ROOM
Our main floor member's club room has a full service lounge & card room with many amenities. See our Lodge page for more information.
SECOND FLOOR
BANQUET HALL
Our lodge boasts a large second
floor facility for your private parties and occasions.
SECOND FLOOR
BANQUET HALL
A commercial kitchen, plenty of seating, and a dance floor make our hall perfect for your event. Rental is open to the public - see our rental page for more information.
ELKS CARE - ELKS SHARE
THE ELKS
Elk lodges proudly serve their local communities and honor our nation's veterans.
PARTICIPATE IN "YOUR" LODGE
LODGE MEETINGS
Lodge Meeting Hours:
1st & 3rd Thursdays, 7 PM
Except July & Aug, 3rd Thursday only
This site is dedicated to promoting & sharing information about the Elk's organization and our lodge with current and future members.
Elks Lodges bring so much more to their communities than just a building. They are places where neighbors come together,
families share meals, and children grow up.
The Elks invest in their communities through many programs , by undertaking projects that address unmet needs, and by honoring the service and sacrifice of our veterans.
Click on the facebook icon
To check out our lodge's page
Henry Toedtman
Dustin Wolf
Rick Soltau
Gary Kuntz (Reinstated)
Holiday Events are coming to the Lodge Soon!
We have many lodge events coming up in December. Check out the calendar for meetings, dinners and other lodge events.
We have added many of the Holiday related events to the schedule and will be adding more details soon. There is no Burger Thursday or Friday Dinner currently scheduled for this week given the Thanksgiving Holiday.
"A Toast to Dicken's Pub Crawl" event is happening this Saturday, November 29th starting a 5 PM. Our lodge is participating as one of the pub stops.
Once again holiday stockings are for sale for a $5 donation. These funds are used to help with the Holiday Food Baskets the lodge provides to needy family's in our community. If you have not participated in the past they are great fun. Purchase a stocking and its hung at the lodge for your "friends" to share drink tickets and fun holiday gag gifts! Creativity in your gift giving is what makes it so enjoyable…
We have also hung the "umbrella" over the cash register for donations - help by giving some of your spare change!
We have adopted two children (brother and sister) for the Lebanon Giving Tree program. These are needy children identified by the county and city.
We will be buying them each the following items: shirt, jeans, socks, shoes, pajamas, winter coat and a toy. Stephanie Flannery will be accepting donations from members that want to help out from now through December 5th. We have done this in the past, and usually spend about $75 per child.
If anyone has questions regarding any of the events or would like to get involved feel free to ask questions - our lodge's officers & trustees are here to serve. Its's as easy as sending an e-mail! You joined for a reason so get involved and make a point to participate!
Monday - Friday 5:00 - 10:00 PM
Saturday 5:00 PM - 1:00 AM
Closed Sundays & Holidays